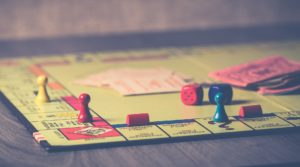 A lot of SLP's hear comments like "I heard you playing a fun game during your session today" or "do you just play with games and toys all day??"  Well, no, we don't, but did you know that games can help work to improve speech, language, cognitive, and executive functioning (i.e. problem solving, decision making, sequencing/organization) skills?  It's amazing how many different skills go into playing simple games like Uno, Phase 10, Yahtzee, and more!  Below are some great games to play, and some of the skills they target: 
Games in italics indicate more challenging games
Word Retrieval
Catchphrase
Scattergories
Scrabble
Wheel of Fortune
Comparing/Contrasting
Apples to Apples
Sequencing/Matching
Dominoes
Racko
Rummikub
Sequence
Skip-Bo
Uno
Card Games
High/Low (aka War)
Garbage
Euchre
Problem Solving/Decision Making/Strategy
Sorry
Trouble
Farkle
Wits and Wagers
Sorting/Grouping
Farkle
Solitaire
Yahtzee
Attention
Racko
Rummikub
Sequence
Skip-Bo
Trouble
Uno
Yahtzee

Next time you and your family have a game night, remember you're not just having fun, you're working out your brain; and your brain will thank you for it!